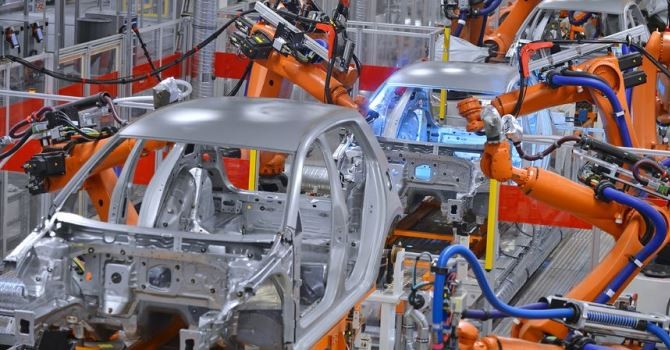 April 13, 2015
by Jeff Allan
 In a recent article, Reuters highlighted the mounting challenges that Japan's robotics industry has faced from the combination of over-regulation and the emergence of strong overseas competition by the likes of the United States, Germany, South Korea, and China.
 The article told the story of Tetsuya Goto, a neurosurgeon who had been working on the development of a robot to assist with brain surgery, just as Japanese regulators were creating new rules that ultimately shut down his seven-year project. For the next 12 years, Goto watched as rivals in the United States experienced commercial success with their competing surgical robot, while his sat on the shelf gathering dust.
Losing the Lead
 The situation was ironic considering that Japan has historically lead the world's robotics sector, blazing paths as pioneers of robot use in automotive, semiconductor, and electronics applications. Despite its strengths in industrial applications though, Japan soon found itself lagging behind in humanoid robots.
 The United States has a major lead in the development of software systems to operate these types of robots. Those from the Japanese side of the robotics industry feared that failure to catch up could result in a situation that mimics the electronics industry ? United States companies will continue to develop the software systems, while lower-cost countries like China mass-produce the hardware.
 Japanese engineers saw the potential viability of these humanoid robots, as well as the limitations of existing technology, during the Fukushima nuclear plant crisis. Bipedal robots, deployed into areas unsuitable for humans, were unable to negotiate the debris scattered by the explosions at the plant. More often than not, the robots simply fell over as they attempted to clear the obstacles.
A Wake-up Call
 Yuto Nakanishi and Junichi Urata, who were assistant professors at Tokyo University saw the shortcomings of existing technology, and were determined to develop a robot that could overcome the extreme challenges presented by disaster situations. The two resigned their posts at the university in 2012 to found a company called Schaft. Over the following year, they developed a system known as "Urata Leg" that allowed the robot to dynamically calculate where it should place its foot to avoid falling over an obstacle.
 The new robot performed brilliantly in a December 2013 competition sponsored by the US's Defense Advanced Research Projects Agency (DARPA). They took first prize for demonstrating their robot's disaster response capabilities. Coming fresh off this major victory, Nakanishi and Urata were flabbergasted when they were unable to raise the required $293,000 from Japanese investors to finance a new prototype. It was at that point that Google stepped in to acquire the entire company for an undisclosed sum.
 The acquisition stunned Japanese political circles, as the technologies behind the company had their origins at the University of Tokyo. Many expressed dismay that an American company was able to swoop away such a promising company simply because Japanese investors and manufacturers balked at the opportunity. The situation served as a reality check to the dilemma unfolding in the Japanese robotics sector.
Ready for Robots
 In the wake of Google's Schaft acquisition, Japan has begun to redouble its robotics efforts. Last June, as Prime Minister Abe announced the new framework for regulatory reforms, he said that he expected Japan's robotics market alone to triple in size to $21 billion by 2020. If we look at the domestic situation in Japan, it is easy to see the possibilities for that to happen.
 One of the first areas that comes to most people's minds is Japan's aging population and its severe lack of healthcare professionals to deal with those requiring senior care. A quarter of Japan's 127 million population are 65 or older. Furthermore, that figure will hit 35 percent by 2025, and up to 4 million healthcare works will be needed just to meet the demands of the aging population by that time.
 The government is already planning to subsidize development of healthcare robots to supplement human workers. Starting with the coming fiscal year, the government will subsidize one-half to two-thirds of the costs to develop healthcare robots with the goal of having a market-ready model by 2016 that costs less than $1,000 per unit. Plans call for robots that can both assist patients with daily care, such as bathing as well as those that augment the capabilities of human healthcare staff by allowing them to perform more with less effort, such as heavy lifting.
 As reported by Reuters, healthcare applications for robots are expected to surpass industrial uses in Japan over the next 10 years. To facilitate this increased demand, Japan's trade ministry has convinced health ministry officials to relax certification procedures, while also introducing an international safety standards program for healthcare robots.
Beyond Healthcare
 The emergence of new robotics technologies in healthcare is only the beginning for Japan's robot resurgence. Companies like Nextage are introducing new manufacturing applications for humanoid robots that far surpass the capabilities of previous generations. At their factory outside Tokyo, humanoid robots assemble vending machines and ATMs at a capacity that rivals three human workers, and operates 24 hours a day. Nextage says they have increased productivity by 500 percent since their introduction. As these humanoid robots continue to evolve, their capabilities will improve, providing faster and more efficient labor that never gets fatigued or needs to take a sick day.
 Prudent investors will take a closer look at what is happening in Japan's robotics sector to get ahead of the opportunities that are sure to emerge over the coming decade. Between manufacturing and healthcare, this robotics resurgence could have the potential to put Japan back on top in several respects.