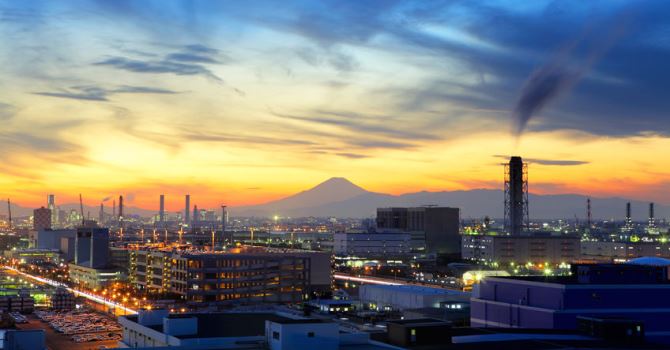 August 3, 2015
by Jeff Allan
 The Japanese economy continues to move past the recession that ended in the fourth quarter of last year. The first quarter of this year saw 2.4 percent economic growth, which surpassed economist estimates of 1.5 percent. There is little doubt that the economic growth has been helped along by increased domestic spending and manufacturing by Japanese companies. To that end, the first quarter yielded a 0.4 percent increase in capital spending. While not huge, it is the first growth registered in four quarters, according to data from the Kyodo news agency.
 These results tie in nicely with the Abenomics economic agenda. One of the biggest benefits?if not a central goal?to emerge from the monetary policies of Abenomics is the reshoring of Japanese manufacturing. Aside from strengthening the competitiveness of export-oriented industries, the weaker yen has made manufacturing in Japan far more feasible from a cost perspective, when compared to offshoring. As with the recovery to exports, reshoring of Japanese manufacturing has, likewise, taken some time to gain momentum.
Reshoring Makes Sense
 According to data provided by WisdomTree, back around the time that the yen was close to 75 to the US dollar, it was 2.5 times more profitable to offshore manufacturing than to build facilities in Japan. Fast forward to the present with the yen at over 120 to the dollar and those margins have mostly evaporated.
 Canon chief financial officer Toshizo Tanaka summed it up well in his quote to the Wall Street Journal, stating that with the present situation, reshoring makes sense for Canon. Tanaka elaborated on a common sentiment among Japanese managers that Abenomics policies will keep the yen relatively stable over the coming term, and that the labor cost gap between Japan and Asia's emerging markets is quickly shrinking.
 The benefits of reshoring are quickly becoming apparent in the automotive and electronics industries. Analysts expect the trend to proliferate to other industries, if the yen maintains its relative stability and Japan continues to avoid any other factors that could potentially derail its economic progress.
Companies Embracing Reshoring
 In April, WisdomTree put together a fairly comprehensive list of Japanese companies that have either announced or already began substantial initiatives aimed at reshoring manufacturing activities.
 Canon has been able to leverage both the economic impact of Abenomics, as well as its own ability to lower production costs through the development of advanced technologies. Subsequently, the Japanese electronics giant plans to see domestic output top 50 percent by the end of this year. That total is up from 43 percent in 2014. Prior to 2009, Canon had been manufacturing 60 percent of its products domestically, but that number had fallen to less than 50 percent by 2011, as global economic factors took their toll.
 Meanwhile, Panasonic plans to resume the manufacture of top-loading washing machines in Japan. This comes in the wake of the company's reshoring of its microwave and consumer air conditioning products. A Reuter's article from earlier this year made a very poignant argument that for every time the dollar strengthens by one yen, Panasonic's white goods division loses 1.8 billion yen in operating income due to offshore manufacturing. Reshoring of white goods manufacturing is clearly in Panasonic's best financial interest.
 The automotive sector has also seen its own share of reshoring activity. Earlier this month, Nissan announced plans to boost Japanese production to more than a million vehicles between 2016 and 2017. That is an increase from just over 880,000 domestically-produced vehicles for 2014. The company has leveraged the weak yen and its record US sales in 2014 to achieve better growth than the global car industry average.
 Honda also has announced plans to shift a portion of its mini-bike production back to factories in Kumamoto by the end of this year. Even Toyota, which drew the ire of many Japanese earlier this April, with plans to build new facilities in Mexico and China, is moving some of its Camry and Lexus production back to Japan in 2015.
The Economic Benefits of Reshoring
 Beyond the obvious and immediate workforce benefits, reshoring also holds the potential to provide greater economic stimulus in a variety of ways. An insightful article by the Wall Street Journal earlier this year highlighted three potential benefits that reshoring is likely to bring to Japan.
 The first relates to Japan's excess industrial capacity. As with other countries that once had a robust manufacturing sector, but have seen declines in recent decades, Japan has plenty of unused industrial capacity. Companies like Sharp and Panasonic are planning to utilize these existing facilities as they reshore manufacturing. This will be a boon for government policymakers as they work toward stimulating economic growth in areas outside Tokyo.
 The WSJ next points to the labor force as a potential beneficiary. Japan has maintained a low 3.5 percent level of unemployment, but reshoring will allow companies to put employees into more productive work that maximizes utilization. Combined with a foreseeable need to hire additional workers as reshoring gains momentum, this could help lift wages and ultimately, contribute to ending deflation.
 Lastly, reshoring can potentially help the government's bottom line. The Abe administration recently cut corporate taxes to make Japan a more inviting place to do business. At the same time, an additional hike to the consumption tax has been shelved until at least April 2017. Reshoring efforts are likely to bolster profits that are booked and taxed to the domestic operations of Japanese multinationals. This provides a path for increased tax revenue, despite the recent cut in corporate taxes, as well as the delay of the consumption tax hike.
Looking Ahead
 Reshoring is clearly in the very early stages, and it still needs to gain a lot of momentum before it can provide benefits to the broader market. Likewise, its success is contingent on various factors that both relate to Abenomics, as well as factors that lie beyond Japan's control.
 There are reasons to be optimistic, though, as this is the first sign of recovery for Japanese manufacturing since the start of the global economic crisis. Investors would be wise to keep an eye on the prospects, as these trends continue to develop.