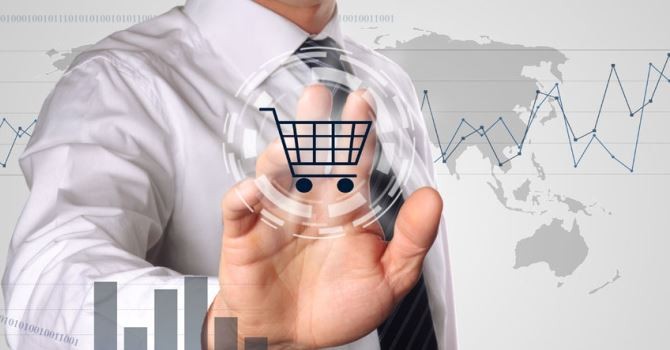 June 8, 2015
by Jeff Allan
Led by Rakuten, the Sector is Seeing Exponential Growth
Talk of a boom in online commerce seems like an article that should have come somewhere around the turn of the last millennium. After all, companies have come and gone since then. The sector has consolidated and Amazon has emerged as the dominant player in the space. At least that is the case in the United States. In Japan, the situation has played out far differently.
Although Japanese consumers are renowned for their quick adoption of the latest gadgets and technologies, online shopping in Japan has struggled to gain traction in the past. Several factors have likely contributed to the lackluster growth of online commerce in Japan. The last few years, however, have seen changes on several fronts that have provided greater opportunities in the online retail space.
Rakuten Leads the Way
Rakuten is becoming more of a household name in both Japan and abroad. Through its Rakuten Ichiba online mall, as well as its various overseas properties, such as Ebates, Rakuten is vying for an increasingly large piece of the online commerce pie. Although dwarfed by global giant Amazon, Rakuten has established itself as the predominant player in Japan.
In its most recent financial results, Rakuten saw its quarterly profits for Q4 up by 73 percent, while its fiscal year earnings were up 18 percent. The company also saw its gross merchandise sales up a record 13 percent to US $16.7 billion.
Aside from merchandise sales through Rakuten Ichiba, the company also gets a hefty chunk of its profits through its internet services businesses, which include its banking and credit card services.
Rakuten's successes echo larger trends that are taking place in the Japanese online commerce sector. Online shopping in Japan is just now hitting its stride, and seems poised for substantial growth over the next few years.
Sector Expectations
In Euromonitor International's report titled "Internet Retailing in Japan," they point to several interesting developments taking place in Japanese online commerce. From an investment perspective, it is definitely worth taking note of what the sector has to offer and where the growth potential lies. Some areas definitely shine, while others areas need to be avoided.
Most interesting about the Euromonitor report is that it seems to indicate that Japanese online commerce has been able to make these significant gains due to a variety of market forces, which have all come to bear over a relatively short span of time.
Two factors that often come up as having negative consequences for the Japanese economy are the recent sales tax hike and Japan's rapidly aging population. Taken together, however, these factors are likely key drivers of this explosive growth.
The aging segment of the population is embracing a more convenient lifestyle. Likewise, the middleclass is feeling the financial pinch of the tax hike, and is more sensitive to pricing. Online shopping delivers convenience while consistently providing better prices than brick-and-mortar outlets. As Rakuten chairman Hiroshi Mikitani noted, "More people are realizing that things are cheaper on the Net."
Analysts see these trends continuing over the next several years. Euromonitor's report predicts an 8 percent compound annual growth rate (CAGR) through 2018, bringing the sector's value to US $55 billion, up from US $9 billion in 2013.
Looking at specific retail areas, the Euromonitor report points to the fact that 25 percent of all Rakuten's sales were from the apparel and footwear categories. They see this trend as playing a key role in future growth for the sector.
An Eye Toward Mobile
Euromonitor among others points to the fact that smart phones and tablets have played a huge role in helping with the growth of online commerce in Japan. This niche area, which has come to be known as "m-commerce" is where the fastest growth is happening.
As of 2013, there was a dramatic shift away from computer-based online commerce in favor of mobile devices. According to Japan's Ministry of Internal Affairs and Communications, 2012 alone saw an increase in smart phone use by Japanese consumers from 29 to nearly 50 percent. Online trends also reflect this shift with Internet use through smart phones nearly reaching parity with Internet use through computers.
By the end of 2012, m-commerce accounted for 27 percent of Rakuten's sales, with peak periods seeing up to 50 percent of sales coming from mobile devices. In the apparel category, over 40 percent of sales originated through a mobile device. Rakuten has taken note and is presently putting more focus on their mobile strategy and offerings.
The trend toward mobile devices is expected to continue, and will play a key role in Japan's future online commerce growth.
What to Watch
As noted in a recent piece by the Nikkei Asian Review, Rakuten and similar players depend on a growth model that curbs investment by relying on existing e-commerce infrastructure to operate in the markets they serve. This diverges from Amazon's model of heavily investing in logistics and facilities, where it is willing to take early losses in order to secure future growth.
As Japanese online commerce companies, like Rakuten reach peak domestic growth, their asset-light business models will be at a disadvantage as they expand to markets beyond Japan. Many of these markets, such as in Southeast Asia, do not have existing e-commerce infrastructure, and a Rakuten-like business model might find it difficult to compete.
To that end, it puts even more pressure on these companies to develop and integrate the service sides of their businesses, to provide continued growth as the market matures.