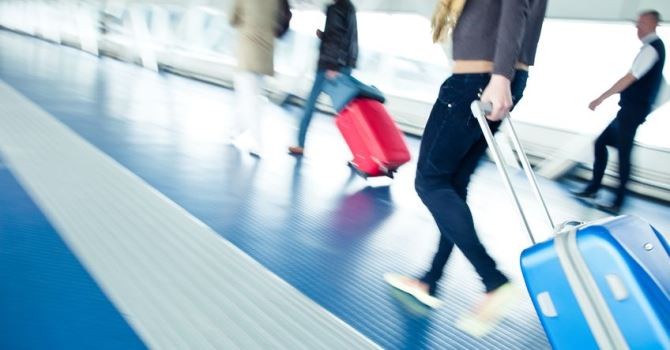 February 2, 2015
by Jeff Allan
The third arrow of Japan's Abenomics strategy mainly revolves around reforms to corporate governance and improvements in Japan's investment climate. One of the less talked about and often overlooked aspects of the third arrow, however, is a push to increase inbound tourism to Japan. Despite the lack of media coverage, these tourism initiatives have been paying large dividends over the last year as the government has moved forward with many reforms to boost tourism numbers.
As a result of these reforms, Japan has crossed the first hurdle by hitting its goal of 10 million inbound visitors for the first time ever, and looks set to achieve similar growth goals by 2020 and 2030. For institutional investors, this progress in travel and tourism translates to several emerging investment opportunities in hospitality, transportation, retail, and other related sectors.
Historic Obstacles to Growth
It might come as a surprise to many readers, but until fairly recently, Japan only ranked 33rd on the list of top global destinations for tourism, coming in just behind Switzerland and Czechoslovakia, according to 2012 data published by the United Nations World Tourism Organization (UNWTO). To put it in perspective, Japan only had one-tenth of the visitors that France gets on an annual basis.
Multiple factors have contributed to Japan's struggle to become a top tourism destination. A recent poll conducted by Nikkei Asian Review found? a lack of foreign language services topped the list of reasons that visitors often leave Japan dissatisfied with their experience. Also included on the list were Wi-Fi connectivity, credit card acceptance, and the availability of nonsmoking facilities, as areas that foreign tourists desire to see improvement.
Aside from feature-specific aspects of the Japanese tourism experience, the years that led up to the election of the Abe administration saw a remarkably strong yen that made visiting Japan prohibitively expensive. With rates hitting as low as 75 yen to a US dollar in 2011, the cost of a vacation to Japan was 45 percent more expensive than it would be today.
These combined forces made Japan a less attractive destination for foreign tourists?particularly those coming from Western countries.
The Effect of Abenomics on Tourism
Abenomics has been a boon for inbound tourism to Japan in several respects. One of the most immediate benefits was due to the monetary policies that led to a weakened yen. With the yen currently hovering between 108 to 110 against the US dollar, tourism to Japan is substantially more accessible to a far broader group of foreign tourists.
Beyond monetary policy though, the Abe administration together with the private sector have taken many other steps toward increasing Japan's appeal in the eyes of inbound tourists.
・Tokyo 2020 Olympics
?????? Japan successfully bid for and was chosen as the host for the 2020 Summer Olympic Games. The games are expected to provide a major boost to the tourism sector for both the event and the period leading up to it. The hosting the Olympics will be key to allowing Japan to reach its goal of 20 million inbound tourists by 2020.
・Visa Restriction Easing
The government has eased many of the visa restrictions encountered by visitors from the rapidly growing ASEAN countries. Thai, Malaysian, Vietnamese, Indonesian, and Pilipino tourists will soon be able to visit Japan easier and stay longer per visit than previously possible.
・UNESCO World Heritage Sites
Mount Fuji and Tomioka Silk Mill recently joined Japan's 16 other UNESCO World Heritage sites, and that provided an immediate boost to the number of visitors to the two sites. Going forward, an additional nine sites are awaiting UNESCO consideration in 2015 and 2016, which, if accepted will likely provide a similar increase in tourism.
・Experience Improvement
The government has made several recommendations for the strengthening of English education, as a way to better serve foreign tourists. The real momentum in this area though has come from the private sector.
Retailors?like discount chain Don Quijote?have been aggressively rolling out programs to attract foreign tourists. While Japan's household spending fell by 4.7 percent in August, Don Quijote's same store sales rose 2.3 percent, with much of that attributed to foreign tourists. The retailer estimates that nearly half of Japan's 10 million visitors in 2013 visited a Don Quijote store.
Private sector businesses are quickly realizing the potential of foreign tourists on their bottom line. The response has been to develop more services that help transform a visit to Japan into a more satisfying experience.
Eyeing Opportunities
As noted, the government hopes to increase inbound tourism to 20 million annual visitors by 2020, and then again to 30 million visitors by 2030. The bulk of visitors to Japan are from Chinese and Korean speaking countries, with that group accounting for 60 percent of the total. As the 2020 Olympics draw closer, that number will probably shift to reflect an increase of visitors from Western countries.
To be certain, the doubling of Japan's inbound tourist numbers in the short span of six years will be no small feat. Improvements to infrastructure, expansion of the hospitality sector, and refinements within the service sector are all vital to continued growth.
This opens several key opportunities for investors over the short to mid-term. Real estate firm Hulic has already pledged nearly $1 billion for investment in hotel and lodging properties over the next five years. Likewise, the increase in tourism is expected to fuel growth in related sectors including retail, transportation, and food and beverage.
Japan's tourism boom is one of the most promising results of Abenomics, and one of the most easily overlooked. Investors should carefully examine both the potential that the tourism sector can offer directly, as well as the opportunities that will undoubtedly emerge within related sectors.