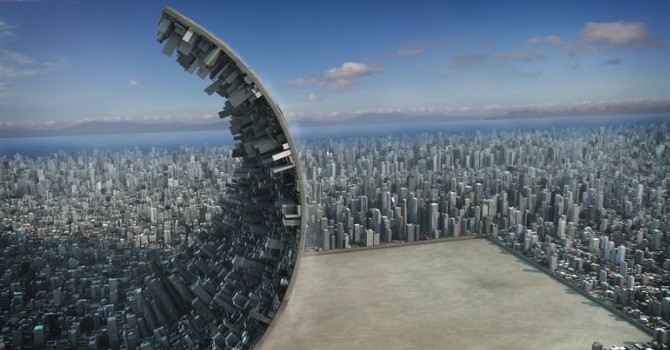 October 14, 2014
by Jeff Allan
Japan's Capital is the King of Commercial Property
The financial press has been abuzz about the recent revival of Tokyo's commercial property market. The Wall Street Journaldeclared that the Tokyo commercial property sector is back "on top of the world" in a headline from last May.
The WSJ noted that commercial transactions in Tokyo have surged 71 percent compared with a year earlier. That equates to more than US $10 billion, putting Tokyo ahead of both New York and London, and making it the only city in Asia in the top 10, according to data from Jones Lang LaSalle.
Optimism Abounds
There is no shortage of optimism about Tokyo's commercial property sector. Recent events seem to confirm that Tokyo is finally set to shake off over two decades of malaise that witnessed rents plummet for Grade-A office space.
A good example can be seen with Mori Building Co.'s latest project at Toranomon Hills. The US $1.36 billion project's available office space was nearly full even before the doors opened in June. Other recent and notable transactions include Takashimaya's purchase of the Times Square building, AXA Real Estate's buying of Nakano Central Park East, and the purchase of Otematchi Tower by Mizuho Bank. These all point to a solid recovery taking place within commercial real estate.
Likewise, rents in Grade-A buildings across Tokyo are set to rise. Real estate firm Cushman and Wakefield predicts that rents will increase by 7 to 8 percent this year. That will be the first increase Tokyo has seen in six years. Meanwhile, real estate service firm CBRE predicts that Tokyo will experience a 29 percent increase in rents over the coming three years.
Cementing these predictions, Mitsubishi Real Estate announced that existing tenants in their Marunouchi and Otemachi area properties would see a 5 to 10 percent rent increase, while new tenants would see a 20 percent increase in advertised rents.
Much of the recovery in commercial property began as monetary easing policies by the Bank of Japan were introduced, as part of larger-scale Abenomics initiatives. In the current Japanese market environment, it makes sense that investors want to expand into real assets.
A recent Financial Times article observes that within the listed real estate investment trust sector, capitalization rates are hovering right around 3.5 percent, which is many times better than a 10-year Japanese government bond at 60 basis points. Institutional investors concur, noting that with inexpensive Japanese financing, moderate leverage can provide a high single-digit cash-on-cash return.
Back to Pre-Lehman Prices
After the asset bubble of the early 1990s burst, the Tokyo commercial property market has made other attempts at recovery. The financial crisis of 2008 deflated the "mini" property bubble that had been forming in Tokyo. Then once again in 2011, the earthquake and related disasters put the brakes on any hope of further recovery in commercial property.
In post-Lehman Tokyo, only a handful of foreign firms had been active in the commercial property sector. These firms primarily took advantage of the bargains to be found with bank-owned Grade-B properties.
Higher profile properties, like Meguro Gajoen, had been bought with the intent being sold at a profit, only to be impeded by Lehman's collapse. These properties are now attracting interest at more favorable prices that rival the pre-Lehman shock period.
Factors behind the Recovery
The factors driving Tokyo's current property recovery are more complex than they appear on the surface. The aforementioned monetary easing policies certainly help, but these are more likely an enabler rather than a driving force.
Supply is one factor energizing the recovery. Grade-A properties had a vacancy rate of 4.7 percent for the first quarter of 2014, according to data from CBRE. That puts vacancy at just under the psychologically important 5 percent level, where balance is perceived to shift from a tenant market to a landlord market.
While two years ago, landlords were offering six to nine months free rent at Grade-A properties, the current incentives are three months to no free rent period. As demand continues to pick up, supply is not expected to keep pace, further lowering vacancy rates.
Perhaps the most interesting aspect of the vacancy rate is the reasons that are driving its decline. Historically, demand fluctuated as tenants sought better deals and more affordable rents. A recent survey by Mori Building Co., however, shows that trends are changing.
The main reason that companies are leasing new office space is to accommodate their expanding operations and increased staff. Over 40 percent of respondents answered that expansion was their motivator for moving. That is up from 34 percent, just two years ago. In the same vein, companies that indicated they were moving to seek lower rents accounted for 31 percent, compared to 36 percent in 2012.
Maintaining the Recovery
While it is clear that Abenomics played a big role in getting the commercial real estate sector on the path to recovery, it is going to take some effort to keep that recovery going. Some of the required groundwork is being laid with the structural reforms of Abe's third arrow.
Foremost among the necessary reforms are initiatives that will lure more foreign businesses to create regional headquarters operations in Tokyo. Japan's corporate tax rate had been a large obstacle on the road to achieving this.
At 35 percent, the corporate tax rate is higher than most European and Asian countries, and is reason enough for many foreign firms to seek alternative Asian headquarters arrangements. That significant hurdle is about to be cleared though. In June, the ruling Liberal Democratic Party opened the path for a corporate tax cut to take effect next year.
The Road Ahead
If current trends continue toward significant price increases in the Tokyo, Osaka, and Nagoya metropolitan areas, most analysts expect the recovery will extend to outlying and rural areas.
In a March 2014 report, the Nikkei Asian Review stated that early signs seem to indicate that this could be taking shape right now. Certain areas in Kanagawa prefecture have seen price increases for industrial-use land of just over 1 percent, as the construction of distribution facilities has increased.
Institutional investors would be wise to consider the potential that the Tokyo?and the broader Japanese?commercial real estate sector has to offer, as it mounts this latest recovery.