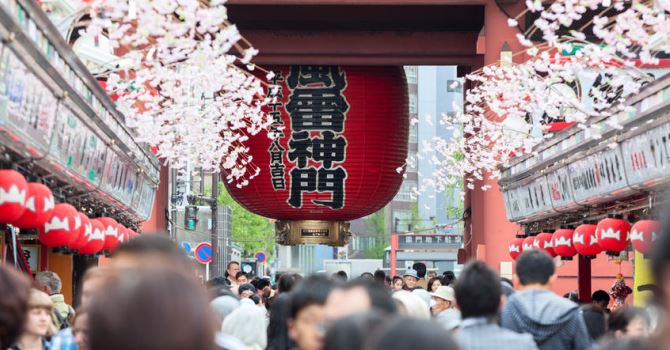 September 14, 2015
by Jeff Allan
 In June, the Japan Times ran an article about the impressive growth happening within Japan's tourism sector. Growth has far exceeded even the most optimistic projections, and it continues to do so with each passing month. The focus of the article was the new challenges that Japan is facing, as tourism continues to grow at such an unprecedented rate. Near the end of last year, we also wrote about Japan's tourism growth, and the Japanese companies leveraging the situation to stimulate sales, even as Japan's domestic market continues to shrink.
In our article, we noted how these Japanese companies were taking advantage of the influx of foreign cash by offering products and services specifically aimed at visitors. Japanese retail chain Don Quijote was leading the push to make it easier for foreign tourists to spend money while visiting Japan. In just the short time since writing that, the sector's vibrant growth has brought to light several other challenges and opportunities that corporate Japan needs to face as more visitors are expected, leading up to the 2020 Tokyo Olympics.
Posting Impressive Results
The Abe administration had initially hoped to see 20 million foreign visitors by 2020, and increase that number to 30 million by 2030. Some critics had scoffed that those goals seemed overly optimistic for a country that only ranked 33rd on United Nations World Tourism Organization's (UNWTO) 2012 tourism report. At the time, Japan had just about a tenth of the total visitors that France sees yearly.
It soon became apparent that the figures were more realistic than many anticipated. By the close of 2013, Japan had for the first time brought in 10 million foreign visitors, compared with 8.5 million a year earlier. As 2014 came to an end, Japan increased that number to 13.4 million for a 30 percent increase. The industry had expected 15 million visitors for 2015, but given the monthly records that continue to be set, that number is likely to reach 18 million visitors for the year. Government data shows that arrivals for May alone were already up 50 percent compared with the previous year. By all accounts, 20 million visitors by 2020 seems like it might have been too conservative of an estimate.
Various factors have helped this growth. Chief among these has been the devaluation of the yen. Coming down from a high of 77 to the dollar in 2012, to the current level of around 123 to the dollar, traveling to Japan has become far more affordable. Likewise, the Japanese government has eased several visa restrictions for countries like Indonesia, allowing potential visitors greater access than either America or Europe can provide.
Although visitors from western countries like the United States are increasing rapidly, tourists from Asia make up the bulk of Japan's foreign visitors. The largest segment of this group hail from neighboring China. After a few years of decline due to the 2011 disaster and tensions between the countries in 2012, Chinese tourists are returning to Japan in droves. Around 7.6 million Chinese tourists visited Japan in 2014.
The Challenges and Opportunities of Tourism Growth
While many Japanese companies have welcomed the growth in tourism and foreign spending, it has exposed weaknesses in some consumer-facing industries like retail and hospitality. Given the state of Japan's tourism sector over the last 20 years, investments into hotels and various services that are oriented toward foreign visitors have lagged behind other developed markets. On the positive side, however, this influx of new tourists might just be the wake-up call that gives Japan the time and insight it needs to prepare for the 2020 Olympics.
The Japan Times notes that the lack of moderately priced hotel accommodations has given rise to a niche opportunity for capsule hotel operators. These icons of 1980s Japan have reinvented themselves to cater to backpackers, often charging as little as 1,500 yen per night for advance bookings.
Japan's retail and service sectors have seen their own share of growing pains with the arrival of so many new foreign tourists. Nowhere has this been more apparent than in Tokyo's high-end Ginza shopping district. Retailers are making efforts to hire staff that are conversant in more than one language, with an emphasis being put on Chinese and English. Existing staff are also receiving training to improve language skills, as they increasingly need to deal with foreign customers.
Other, less conspicuous issues like foreign language signage and the ability to use foreign ATM cards in Japanese ATM machines, likewise, need to be addressed in the run-up to the 2020 Olympics.
The Economic Impact for Japan
On average, the tourism sector makes up about 9.5 percent of GDP globally. In Japan though, it has been closer to 2.2 percent, which means it has a significant amount of room to grow. Foreign tourists to Japan spent just under $17 billion in 2014, an increase of 43 percent from the previous year. The goal had been to achieve $18.5 billion by 2020, but actual results are likely to surpass that given the current growth trends.
Chinese tourists are spending an average of $1,878 per capita, which is up 30 percent over the last two years. It is also the highest amount of any country's visitors, according to data from the Japan Tourism Agency. That compares with Americans, for example, who are spending $1,324 on average.
Investors in the hotel sector have taken notice of the potential rewards. The Wall Street Journal reports that hotel investments are at their fastest pace since before the Lehman financial crisis days. Last year saw investments rise to $2.5 billion, which although still only half of the 2007 total, is still nine times higher than the post-crisis low of 2009.
In addition to the economic benefits, Japan's tourism boom is an excellent chance for Japanese companies to prepare for the challenges that the 2020 Olympics will ultimately bring. Investors in the hospitality, retail, and service sectors should be alert for the opportunities that these preparations will offer through various infrastructure, training, and service improvement initiatives.